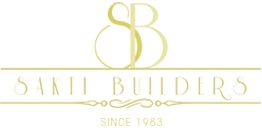 Sakti Builders was founded in the year 1983 by its managing partner, Mr.Umesh Chamria.

Since its inception, numerous developments have been attributed to the group's portfolio in major cities such as Kolkata, Ahmedabad and Bangalore.

The organizations Vision has always been to develop spaces of unmatched quality to create growth and harmonious community living while enhancing the standard of life by benchmarking international standards, and to innovate and grow successfully with every development that we undertake.

We at the Sakti Group are intensely customer focused. We strive to create architectural masterworks that reflect our creativity and engineering excellence. Moreover we believe in delivering complete satisfaction in service, quality and value for money to our customers.

The distinct method of construction, design and engineering incorporated by the organization in all of its projects till date can be distinguished from the numerous buildings that exist today. The Sakti Group is a Zero-Debt Group, with absolutely no project debt, and with over a million square feet of projects delivered and more than a million square feet of upcoming and proposed projects and a highly valued land bank spanning over a 100 acres in Karnataka, Punjab, Tamil Nadu & West Bengal along with quality built assets and investments across the country, the Sakti Group is poised for a steady and successful future.
Test Data
All rights reserved © | Privacy policy